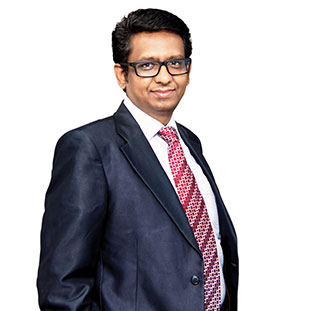 Any sufficiently advanced technology
is equivalent to magic,"~ Arthur C. Clarke, the British science writer & futurist replicates the ever-changing and demanding nature of technology requirements of businesses across the world. With this ever expansive nature of IT sector, it is not unfathomable to suggest that there are still many innovations that are yet to be discovered. To bridge this gap between changing market needs and available infrastructure, Launchship Technology Solutions is all raring to go and discover innovation and growth by remaining true to its policy of providing unmatchable and end-to-end IT services and IT enabled services (ITeS) to its customers which proved to have added a remarkable value proposition to their business.
Germination of a New Idea
Launchship was founded in 2011 by a group of just three people in an even smaller room with a vision to provide the best technological assistance for global independent software vendors to attain their offshore development goals. The trio started out with small projects which were solely curated by
trusting their finesse, defining a work model,and centered on
customer satisfaction,and thus provided clients with matchless business solutions. Owing credits to the team they picked up who understood and aligned with the core values of the company,Launchship had influx in shuteye time. This Hyderabad-based company now caters to the needs of those organizations that would prefer specialists to take care of their software requirements.
Launchship is raring to go and discover innovation & growth by remaining true to its policy of providing unmatch able end to end IT and IT enabled services
Launchship has proven its expertise in
Launchship has proven its expertise in fabricating cost-effective offshore products which over the years have assisted the clients and their business models to bring timely return on investment(ROI) and in turn customer satisfaction. The offerings embedded with high-maintenance standards range from Custom Software Development (includes web portal, e-Commerce application and Social Media applications)to Testing,Mobile Applications Development (iOS, Android & Windows)and advanced Digital Marketing. Furthermore,the company also provides ITeS which branch out to HR, accounting & financial services, customer care and procurement services. "We have always believed in quality
over quantity," asserts Jay (Mruthyunjaya) Shetty, Founder& CEO, Launchship. The company has solid experience in providing engineering services to several reputed names in the industry.

Starting with assistance at each stage of Software Development Life Cycle (SDLC)from business analysis and prototyping to development,testing, deployment and digital marketing with advanced technologies, the services of the organization extend to enhanced processes, and used Application Lifecycle Management (ALM) to look after the product lifecycle management. "We are committed to achieve total customer satisfaction by providing quality products and services," adds Jay.

Path to Glory
Having a relaxed atmosphere with lots of flexibility is what the company believes will work for the betterment of it steam, and eventually the enhancement of organization it self. Today, having a workforce of more than 200 people who the company believes are the key differentiators when it comes to their competitors, the organization is capable of achieving any target and scope it foresees. "The future blueprints are centered on the strategy to keep ourselves abreast with the technology advantage and training our team," adjoins Jay. With the main sources of revenue being software development, IT services and Games Development, Launchship is now expanding its horizons to Artificial Intelligence, Machine Learning, Internet Of Things (IoT),Next Generation Mobile Gaming, Augmented Reality (AR) and Virtual Reality(VR) based games.