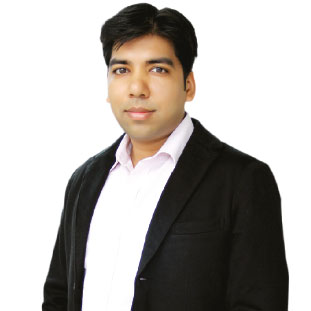 The global economic uncertainty has unleashed a wave of unprecedented challenges for the businesses; be it large or small firm. Businesses always have an element of risk and business decisions are tougher than they seem. Being an entrepreneur, one can never be completely sure whether a particular decision can yield profit or bring loss to the company. In such situations, successful businesses prefer to do market research before making any critical decision. But as the ongoing trend, research projects are considered to take more time than expected because of the operational inefficiencies. Completing research on time and acquiring a seat on decision-makers' table is one of the major challenges for present day organizations. Thus, noticing the major challenge and heavy task of research consultants to keep up with the managing vendors for the free flow of operational work & remove inefficiencies, a New Delhi-based Market Research Company came into existence.
Established in 2010 by Saurabh Aggarwal, an old-timer in the field of Market Research with over 10+ years of experience, Knowledge Excel Services emerged in the MR space with a motive to transform 'Research-to-Reality' by making it fast, integrated & cost effective. Narrating on this, Saurabh speaks, "We have gathered almost a decade experience in MR & Industry prospects.
Through our platform, we try to design a smart service model that help companies in making their research work an easy matter."
Staying ahead of technology & performing varied research methodologies, Knowledge Excel Services assists to visualize data insights and adds value to business initiatives
Operations Partner for Small & Midsized Companies
Positioned as an operations partner for small & medium size MR companies and acting as a one-stop solution provider, Knowledge Excel Services sights to cater almost all the major activities starting right from Survey Designing, Survey Scripting, Data Collection, Data Processing to Analytics. Considering itself as one of the best innovators in Conjoint Technology, the company claims 'Conjoint Studies, Market Data Research Hub & Script box' as its flagship offerings. Through its flagship offering, Knowledge Excel helps to develop multiple applications that gamify the way a conjoint study is answered, tries to gather data from different studies together into one platform and program surveys using 'Sawtooth Software' a programmer friendly and easy to tool. "We have a Center of Excellence that continuously experiments & develops effective ways of implementing conjoint studies," avers Saurabh.
Staying ahead of technology & performing varied research methodologies, the company assists in visualizing data insights and adds value to business initiatives. Analysing that every project brings its own unique set of challenges and hence different strategies are needed to be applied for each project, Knowledge Excel Services in order to overcome these, uses its own interactive applications like Drag-n-drops, Slider Scales and others to make survey more interesting, also deploys online chat forum so that the respondents can clarify their doubts as well as sets questionnaire based on psychological assessment which is easy and intuitive to cognitive functioning.

One Size, Fits All

Headquartered in New Delhi with an office in Virginia, US, the company deems' Resource Capability' as its biggest asset.Being a customer centric company, the company believes in the ideology' One Size, Fits All'and strives to offer the best solutions for Customer, Marketing & Product Intelligence under one roof. Understanding the essential customer organizations needs, Knowledge Excel Services sights to be a leader in the MR field by mixing its services with the latest technology. Explaining further, Saurabh Concludes,"Our employees are our biggest assets and they deliver high-quality output to our clients, which is real reason of our success. Our immense functional & technical expertise is to bring value to client's organization. Currently, we are focused on making new automation, survey techniques and others which in return can add value in our day-to-day deliveries."