TalentRecruit: Acquire Right Talent at Right Time & Cost Using Machine Learning & Artificial Intelligence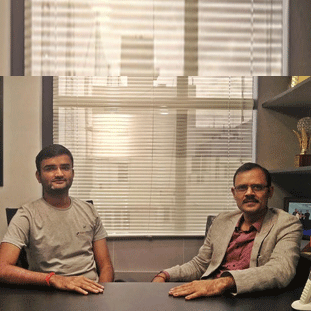 Digitization is making the world a smaller place and companies are slowly realizing that to survive in this competitive market they need to hire world class talent. Maintaining a delicate balance between HR budget and cost of hiring the best talent is a serious contention for any organization. This is where the need for an advanced Recruitment Automation Software becomes extremely important. Talent Management is an organization's commitment to recruit,retain & develop the most talented employees available in the job market. This is a continuous process that pivots on the HR Department's ability to find the best candidates at all employee levels & grades to facilitate a healthy learning environment for employees to collaborate with other professionals, develop new skills & improve their overall productivity & performance.
"We know for a fact that there is no dearth of candidates in the market," says Alok Nidhi Gupta, the Managing Director at TalentRecruit."The real problem for companies lies in identifying & hiring the right candidates with the
skill-set that enables them to learn, grow & add value to their organization while working independently or in collaboration with others. This is where we help companies bridge a critical gap through our software that can help them identify these amazing powerhouses of talent & on board them with ease," he continues.
TalentRecruit is built on the core principles ofautomation,intelligence & analytics, offering innovative software solutions for recruitment management
A Futuristic Cloud-Based Talent Acquisition Platform
Talent Recruitis built on the core principles of automation, intelligence & analytics, offering innovative software solutions for recruitment management right from candidate sourcing, social recruiting, employer branding, candidate assessment & engagement, employee referrals& more till on boarding along with an Online Examination Platform for creating in-depth assessments. "We have over 5000+ recruiters on our recruitment & on boarding platform which has everything they need to attract, engage, assess& seamlessly on board the best talent in the job market,"says Alok. "It's all in there!"
The recruitment platform is further enhanced with Machine Learning &Artificial Intelligence capabilities
to auto-suggest candidates,with a ranking, that best match each requisition based on the hiring manager's& interview panelist's shortlisting& selection patterns utilizing data-driven algorithms."The Machine Learning aspect of the system is what's most interesting for us tech geeks," says Vikas Kumar Gupta, Head of Technology."By enabling the system to analyze multiple factors in the progression of a candidate during the recruitment process with data-driven algorithms, we provide the HR Fraternity a system that ensures minute details which recruiters could overlook are added to the hiring equation to find right candidates. This coupled with our robust on boarding software that can allow you to create a transparent, seamless&paperless process for your new hires while improving your offer to joining ratio makes it an incredibly versatile platform," he further adds.

Talent Management in 2017

Gone are the days when HR was relied upon to take care of training &mentoring needs of employees. Today, it's all about managers you have and their level of ownership. To drive a successful talent management program, organizations need to first examine their mode of talent acquisition from sourcing till on boarding, address how knowledge is being imparted among their employees, understand how effective these methods are and evaluate systems that are capable being integrated with software already implemented.If you need a comprehensive recruitment & on boarding solution which is capable of all this,Talent Recruit is your answer!