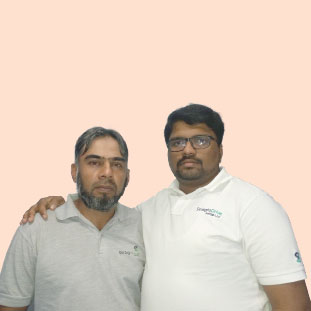 There is a famous saying " Even the greatest creations start from small seeds". It is with this premise that StraightDrive Softlab was conceptualized in the winter of 2015 by its co-founders, Ashish Philip and Mohammed Khurram. Both from the IT world and with a very similar mindset of things around them, the co-founders believed that the new company can be unique in its own way providing IT products and services to clients from any industrial vertical, big or small. As Khurram puts it very clearly, "We wish to 'drive' customers 'straight' to the solutions they require". With more than a decade of experience in the IT sector and witness to the rapid changing landscape of IT in businesses and enterprises, Ashish & Khurram believed that they each had some thing to offer to enable a clear organic growth of StraightDrive.
The Journey
After acquiring their initial seed funding, there was no looking back for StraightDrive. The road ahead was clear and goals clearly defined.Business counseling and financial support came
StraightDrive initially started with two clients, at present has more than 12 clients across India, Canada and Middle East
with no strings attached from Jansons Investments,a Bangalore-based business conglomerate with more than 40 years of history. With the right support and additional motivation, the co-founders formed a team of passionate designers and software developers, and ventured into creating web, mobile and cloud-based applications. Their flagship ecommerce platform, BridgeBox, which is now LIVE on the Playcstore, is proof about StraightcDrive's team to create a simple, user-friendly digital platform with customer engagement features. As they were offering customized solution to their clients, they began focusing more towards the B2B solution side.Elaborating further, Ashish speaks, "Once we take clients onboard, we ensure they reap success from of our services. Even if it's a simple idea, we are here to shape it for them and bring it into reality. By and large, we help our clients increase their efficiency of business". About 5 months after take-off, StraightDrive developed and launched their new SMS services platform, Prontto. Some of the key banking clients using our SMS services include Bijapur Mahalaxmi Urban Co-Op Bank Ltd, Shiva Sahakari Bank Niyamitha, Chikmagulur Pattana Sahakara Bank, Sri Hanumagiri Souharda Credit Co-op Ltd and Taqwa Credit
Cooperative Society. With the right mix of intuitions and ideas, StraightDrive engages new clients with competitive pricing models and features list which they find hard to deny. Once the journey begins the clients get to see the real potential of the custom-branded solution offered by the StraightDrive team.

Growing Steadily

StraightDrive initially started with two clients, at present has more than 12 clients across India, Canada and Middle East. Some of them worthy of mention include Sundar Car Care (Bengaluru,India), Foodicta (Pondicherry, India), Praxo Capital (Bengaluru,India), Mokaya (Riyadh, Saudi Arabia), and Routes Car & Truck Rentals (Toronto, Canada). "We are growing tremendously and within a short span of time we are expanding our technology and services across industries. We want to make StraightDrive the most intuitive, technology-driven mobile and cloud solutions company serving a global customer base in many countries. Our first step to winning clients is to grasp and understand their business and technical requirements and then give them our impartial, un biased input on the approach taken on their product design and development. Some of the key value-add we offer is user friendly and scalable software design, professional use of IT technologies, methodologies, strategies that meet client's budget, timeline and requirements and finally a holistic view-point on the overall development. We are now looking into various new technology domains including Augmented Reality (AR) and Virtual Reality (VR)," concludes Ashish.