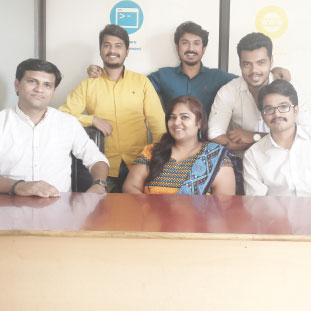 Prasad Dumbre and his friends had known each other for more than six years and ever since their engineering college days they always wanted to take their entrepreneurial plunge. Finally after graduating from college, they set their plan in motion. Thus came Mitroz Technolgies, a smart creative agency into being. The sole purpose was to create advanced, futuristic, cutting edge, state-of-the-art designs, mobile apps, websites, and software for companies and people who love being in the limelight.
Coming from a middle class Indian family, initially it took them a lot of effort to convince their parents. Few succeeded and the other friends, who abided by their parent's norm, took up MNC jobs. Meanwhile Prasad and his two other friends rooted to their ideals, just like the saying goes 'Nobody knows the future. You can only create the future.' – Jack Ma. They began living their dreams in 10x10 room and laptops in their hands. With the zeal and potential to utilize their knowledge and technological skills in the domain, they went ahead and started full
fledged operation in 2013. In year 2014 when things were bit difficult financially our 4th partner Narendra Patil joined us giving Mitroz a helping hand & their expertise in domain.
Growing rapidly in the space with 200 percent YoY growth, Mitroz has clients across domains
Providing Next Generation Solution
Mitroz based in Pune started developing software, websites and apps for their clients and in the process imbibed various technologies. Soon they realized that their expertise suited best in mobile application space and they just followed the trend. "We are Startup for a Startup. Basically, everybody with an idea to innovate is our client. For us, user experience is the key and it's always about how the app looks, how it feels. Being a young company, we always focus on delivering innovative and free flow designs. Moreover, we at Mitroz, first and foremost try impressing our own team and then the client. Until and unless we are satisfied, we work day and night delivering our clients the best quality product," says Pratik.
Mitroz, over the years has developed breathtaking mobile applications and recently has developed a sales distribution app to BVG Life Science Pvt. Ltd. This app has automated their
entire manual process and every thing has been integrated onto a mobile application platform resulting in profitability. "We have worked with various clients and their happiness and smile matters.And we guarantee 100 percent client satisfaction, what so ever" says Prasad.

Friendly Atmosphere

Mitroz technology initially started with 3 member team, at present has grown to 30 member team. Their work culture also is quite different from other competitors in the space. Further speaking Akshay says, "As the name suggests, Mitroz means friends. Our work environment is very friendly. Every single person here is our friend and we express ideas freely. Moreover, the thought behind our establishment was, we never wanted to miss our college life. The culture here is, never about me or you, it's always about us."

The company combines engaging designs with latest, innovative development, keeping the client's needs at the heart of every creative idea they have. Growing rapidly in the space with 200 percent YOY growth, they have clients across domains which include Mahindra Life spaces, Eresource, BVG, amongst others. "We are focusing on various innovative ideas, and have plans of geographically expanding our services. Also, to grow in the segment is our ulterior motive. And speaking of technological advancements, we are coming up with solutions in the IoT segment,"concludes Prasad.