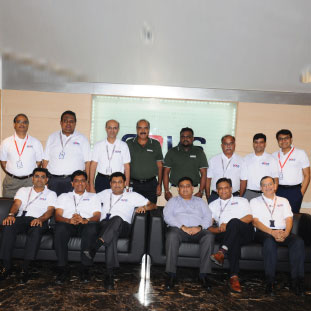 The latest cutting edge technologies are leveling the playground for all startups, midsized companies, and the established Tier 1 players. "Some of the newer technologies mentioned above including Security with specific focus on Predictive Analytics, Big Data, DevOps, Movement towards Cloud and Mobility are changing the way businesses are being run," highlights Ganguli. Shedding light on their mission in today's scenario,Balaji, GAVS' Chief Delivery Officer says, "Our endeavor is to provide solutions that bring predictability in the IT operations, reduce manual
interventions and drive towards a higher availability of business services." GAVS' Predictive Analytics platform, GAVel, correlates events and data based on human intelligence and machine learning, to provide predictive insights into the operations. This drives increased revenue and enhanced customer satisfaction. GAVEL has been developed using Microsoft tools like HD Insight, Microsoft Machine Learning, and others and is deployed on Microsoft Azure. It also has an open source platform. GAVEL assists in reducing incidents, predicting potential outages, and enhancing user experience in data center environments. GAVEL has been recognized as a "Cool Vendor in ITSM 2.0" by Gartner.

GAVS has also built a solution ZMan, to automate the repeatable tasks and workflows, thus reducing the manual intervention. GAVeL coupled with ZMan automation platform helps fix issues with reduced manual intervention thru automation. GAVS is working towards offering the clients a Zero Incident Framework, utilizing Predictive Analytics tools like GAVEL, Automation tools and other Risk & Governance tools. GAVS manages the traditional operations in an efficient manner while bringing in significant business agility through transformational initiatives like cloud and analytics," says Chandra, GAVS' Head of Infrastructure Management. GAVS also leverages its IP solutions and frameworks around predictive analytics and Desktop-as-a-Service to run IT operations in a secure and collaborative environment. Various companies around the world have chosen GAVS as their third party vendor in the IT space. One of the leading publishing organizations was able to accelerate their transformative journey through GAVS and its partner's end-to-end IT Support and comprehensive strategies focused on migration to cloud and offshore-centric services. In another instance, GAVS improved IT availability and reduced OPEX for a company that supplies software and hardware systems for apparel and technical textiles by enabling them to migrate from on-premise ERP to cloud.

GAVS is also known for its proficiency in managing SAP and Azure ecosystems. "We build collaboration platform on Microsoft Azure to enhance the customer engagement capabilities for our clients," says Ganguli. "We have implemented SAP solution on Microsoft Azure to support business' demands of a FMCG


company in India. GAVS supports the infrastructure services through a Managed Services operation for one of NY's larger Health Care providers and other Behavioral Health Providers in the region," highlights Rao Haridasu, GAVS' Head of Solution and Strategy. In the days to come, GAVS is focused on building a partnership with Microsoft to address the Health Care sector using Microsoft's Azure and other tools.

Creating such success stories wouldn't be possible for GAVS, if it wasn't for their innovation lab and diligent workforce. As an organization, the company is focused on implementing technology led solutions to meet the business demands of their clients. Along this line, GAVS follows an inside-out approach to build solutions and frameworks that could assist clients in doing their digital makeover. "We have made a significant investment in developing an experience center and ideation system in our organization to seed and test innovative ideas," adds Ganguli.

GAVS is obsessively value driven and has based their organization around RITE-Respect, Integrity, Trust and Empathy and all of their engagements and interactions with their stake holders i.e. clients, employees and share holders are governed by these values. It is GAVS' belief that values are the key ingredients to build a sustainable organization.

Ganguli quoted Kahlil Gibran-"When you work you are a flute through whose heart the whispering of the hours turns to music. Which of you would be a reed, dumb and silent, when all else sings together in unison?"-Kahlil Gibran. Ganguli went on to add that GAVS is clearly an important purpose that defines his life and he often tries to impart the same passion to his colleagues at GAVS. As a team, the leadership and members are trying to make GAVS a company with a heart, use it to leave a legacy. GAVS would like to have a SWAT index to measure all of its employees-Smart, Hard-Working, Articulate and Technologically curious. GAVS and its leaders believe that through this GAVS will be able to provide its clients a consultative and advisory engagement.

On their journey ahead, GAVS would like to be a genuine partner of its clients and provide value through Automation, Predictive Analytics, DevOps, Risk & Governance and an engaged employee based.