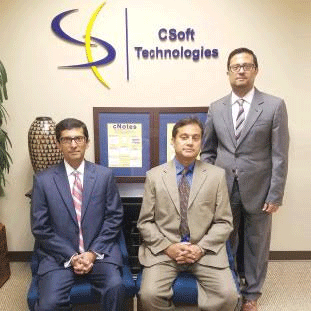 CSoft Technologies was established over two decades ago based on a critical plant operations need for a central repository that contains all of the data associated with operator communications for each shift, each day for each position from the field operator to the Plant Manager, with key interfaces to plant data historians, lab systems, work orders, and priority alarms."Today, CSoft's flagship product CNotes is a unique industry leading tool for safe and efficient plant operations as evidenced by use of CNotes by some of the premier petrochemical firms in the business," says Murad Ajani, Partner, CSoft.
CNotes, an electronic shift notes and communication system enables a complete digital platform,eliminating paper log books and spreadsheets. The solution is completely web based and readily available to any employee from any PC or mobile
device at the site allowing every single user in the plant to see how the entire plant system is performing. "We endeavor to develop integrated solutions that present real-time actionable data in a meaningful context across an entire organization for tangible business value,"says Amit Banerjee, Principal, CSoft.

The company's plant management dashboard better known as CFlow is an incident investigation solution enabling end-to-end reporting on all information related to work processes and incidents. It covers a multitude of needful actions including initial notifications, plant investigative information with the ability to assign and track corrective actions or preventive actions providing a complete audit history of an incident. As explained by a customer, "At Total Safety, CFlow is an integral part of our safety management system. On a daily basis, incidents and corrective actions are tracked to closure. It is an excellent tool that allows us to fully capture the critical information associated with safety and quality incidents," Steve Long, HSE Director, Total Safety. Further, CSoft is also leveraging its vast experience in serving manufacturing industries with leading edge mobile device technology for rapid and efficient field data collection and expert consulting services tailored to meet the rigorous business
requirements of each business need.

CSoft's CNotes for Operator Shift Notes and CFlow process workflow solutions are becoming standards as more companies are looking for solutions that provide best practices in the industry. This is evident from their client's feedback saying: "It has been my pleasure to be a client of CSoft Technologies for the past ten years. I started with them at another refinery so when I landed a job at my present position it was only natural to call them to get their service. At this time we are using the CNotes and CFlow enterprise solutions. I am very satisfied with both solutions. Not only are the products economical but the personalized service I receive is outstanding. I would recommend this company highly," Tony Human, Training Supervisor, Texmark Chemicals

"While it is important to deliver high quality services and products, our team never loses sight of the most important aspect-Clients and their objectives. Our team of talented professionals engages each client to understand what problem(s) they are trying to solve rather than trying to "push" the client into a solution that might not actually address the actual issues. The final aspect of this process is quality service and CSoft excels in the support of our products and solutions," says Amir Ajani, Founder and CEO, CSoft.