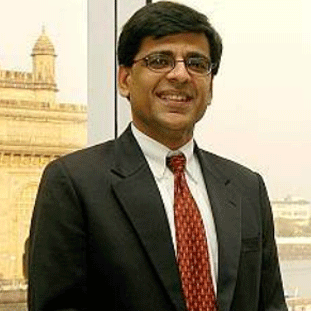 The world suffers from a lack of integrity and goodness. Financial firms are especially notorious for sacrificing their customers' interests at the drop of a hat to enhance their salaries, bonuses and share price.Even the largest and the most 'respected' fund houses are willing to drive the cars and look blindly ahead even as their passengers are getting mugged in the back seat by the distribution channels, so that the CEOs & CIOs of such fund houses can keep multiplying their personal wealth.
Though it's the true mark of leadership, integrity by it self does not make one successful. But when it partners with proven competence, the probability of a successful outcome takes a quantum leap! Ajit Dayal (Founder & Director, Quantum Advisors Pvt.Ltd.) serves as the perfect archetype of such uncompromising integrity and profound competency.
Not once or twice, but at every turn of his life, this financial connoisseur was tempted with plentiful enticements centred on a choice between being honest and being rich. If his monetary desires prevailed over his characteristic values, Quantum would have made a fortune and the personal wealth of Ajit, as a shareholder, would've been 'up there' with many of the financial honchos. But, he never compromised the interests of his investors:when his team launched Quantum Mutual Fund in 2006, he refused to follow the footsteps of other fund houses,whose activities were border line criminal and certainly immoral. This evangelist with a lofty goal didn't fall prey to mere fiscal imperatives, but built his organization on the firm principle that making money is merely a by-product. "Character stays with you all your life; money is important but transient," avows Ajit.
A Pioneer on Many Fronts
Sailing uncharted territories, Quantum's roots are intertwined with those who have made history. The 1990-founded Quantum Advisors was the first equity research company to focus on the potential of foreign institutional investors in the Indian equity markets. The very simple act of building a database that expressed data in millions– rather than in lakhs and crores – was revolutionary during those days. In 1992, Quantum became the first company to have a joint venture with a foreign institution, Jardine Fleming, and the second group to help setup a $25 million venture capital fund in partnership with Walden from California and Nikko from Japan (Draper beat Quantum by a mere few days!).
Interestingly, Ajit, who jokes about being border line illiterate in technology, had invested in Infosys, Mastek, Zee TV, NDTV and BiTV before they were IPOs, and four out of five successes were magical, because he knew inflection points. An early mover in many aspects, he pioneered in placing all of Quantum's data on Indian stock markets online in 1996 (when there were merely around 10,000 internet connections in India). Mean while, it was the first fund house to focus on the internet as its only channel for reaching out to investors,by giving them the ability to buy its products online in 2006, when smartphones weren't around!
Unbiased & Trustworthy Information… Always
Institutionalizing and democratizing the creation and delivery of information, Ajit's ventures – Equity master, Personal FN and Help Your NGO– have the common element of analysing data and giving an opinion based on that data to assist the user in making informed investment decisions in stocks (Equity master), in financial planning (Personal FN), and in 'Evaluat(ing) Then Donat(ing)'not to the charity which has the money to advertise but to the most deserving charity (Help Your NGO). With Quantum's
decades-deep expertise in processing publicly available information and experience with numerous Indian founders and managers, Quantum's research process connects the dots and presents a complete and unbiased view. This conviction eventually finds its way into stocks and securities Quantum owns (or doesn't own) in the fund's portfolio. The company prides it self on its honesty and commitment to not be driven by its revenue/profits but by what is best for customers. "My school teachers taught me that honesty is the best policy – always and without exception! I feel sorry for those who are customers of people who had teachers that feel you can choose when you wish to be honest!" asserts Ajit.
This evangelist with a lofty goal didn't fall prey to mere fiscal imperatives, but built his organization on the firm principle that making money is merely a by-product
Not just Quantum's policies, but the reason behind its inception is also a noble one. After Ajit's MBA from UNC Chapel Hill, his professor & guide Jack Behrman asked what his future plan was. When Ajit poured his heart out to help India and work for the World Bank, Jack's suggestion to go to India if he wishes to help India proved vital in Ajit's return home. A decade later, Quantum built databases and provided information that would be the catalyst for billions of dollars of investments to kick-start sustainable long term growth of the Indian economy. His experience in managing a $2 billion fund for Vanguard from 2000-2004 showed him that an organization can indeed be large while remaining on the path of honesty.
His guru Tom Hansberger, the legendary investor & co-founder of Franklin Templeton, taught him the art of 'value investing', which when blended with Ajit's past experiences in India, evolved into a mix of a qualitative and a quantitative approach to investing. In 2003, a personal situation and the indifference of Quantum's then business partner Tom Hansberger towards launching a fund in India; made Ajit take a large business risk of going solo. In fact, Quantum was the only fund house not owned by a bank, an insurance company, a broker or an industrial family. "We were and are professionals offering a service and staying true to our customers," emphasizes Ajit.
Ajit has a penchant for identifying a problem, criticizing the existing regime and offering an alternative.No wonder,then, that he is highly motivated by Jaishree&Desh Deshpande's ability to use their skills and capital to develop new solutions for old problems. 'No matter how poor a person is, if he has a problem, listen and try to solve it' – these wise words of the late Jamnadas Moorjani (owner of a small textile firm, whom Ajit reckons had more acumen than Reliance or Bombay Dyeing) have hada lasting impact on his persona, while the astute advice of the late Ashok Birla – 'you may be a 'babu' and a 'crorepati', but you listen to everyone'– instilled humility into him in another way. On the flip side, one of Ajit's joint venture partners exposed him to all the inherent conflicts that still dominate the self-serving financial firms and demonstrated how not to run a customer-service business. There have been quite a few instances where he has lost friends due to his uncompromising ethical standards.
Inspiring Dreamers
A dreamer, Ajit can inspire people to dream with him and gladly leads the charge to implement. Sharing his wisdom with fellow peers, Ajit says, "Find someone very early in the idea stage to work with to co-develop the idea further. The creative juices from colleagues tend to get stymied because they may not have the confidence to challenge the perceived owner of the idea – the founder. Hence, it is important to stress on the fact that the founder was accidentally the original 100 percent shareholder and that, eventually, every one in the company will get shares. The company will only succeed if the team ensures that the bad ideas are eliminated and inputs to improve the mission or
the product are brought to the front. Build teams who recognize that five individuals are better for the organization's sustainability rather than one powerful person".

Ajit wishes to spend time in Hubli at the Deshpande Development Dialogue and help the budding entrepreneurs there. Head vises those who seek his advice to "Be good and Do good," whilst enhancing their knowledge by reading Gandhi & the Upanishads, and watching documentaries like The Inside Job, Why We Fight and The Art of the Steal.Though this entrepreneur has had many great ideas and built wonderful prototypes, he deems that he lacks the killer instinct, as he is a strong believer of the Gandhian philosophy: the means is as important as the end. He could never cook up a product for customers that he won't buy himself. This moral compass is his strengt hand weakness at the same time!

As a person, Ajit is a firm believer in remaining true to his word, but his loyalty has occasionally resulted in his trust and efforts being misplaced in the wrong people.For instance, when one of India's largest BFSI companies pulled the plug on integrating its e-broking engine with the bank's payment gateway and Demat platform, Ajit's e-broking venture Equity master had to write off crores and lay off staff as well. After dragging it along for a year, months of work ended up in a 'baniakahisaabkita bhai' discussion and the e-broking venture was destroyed. "We were left to die like bugs splattered on the windshield of a company racing to build market cap on the highway to wealth", says Ajit. Though this was 18 years ago, Ajit remembers it as a lesson in trust badly placed with the wrong person. But the energy of knowing that he can change people's lives keeps him going, not to mention his partners I.V. Subramaniam (Managing Director & CIO, Quantum Advisors) and Equity master's RahulGoel, whom Ajit feels fortunate to have worked with for over 20 years now.

As adept as he is in finding co-partners for business, Ajitdidn't have that joy of having a good family life. "I wish I could've woken up under the same roof as my son for more days every week," divulges Ajit with a lingering disappointment."I still make it a point to meet my family members and enjoy hosting family dinners, though my sisters and cousins probably think of me as a strange fellow talking a strange language," he adds.Speaking about family, he states that his father never understood the inherent conflicts in the finance sector,where products are sold for commission. Ajit is still unravelling the junk his father had bought from crooked agents till his demise,which wereunfit to be sold to a person above the age of 80 years.

A night owl and an early bird, Ajit loves his home food in Bombay, the bratwurst in Zurich and fish in Florida that connects him to memories of him time spent there, and veg fried rice everywhere! Though the only exercise he gets is pushing his bags from Terminal A to Terminal B in the airports, he loves swimming in the warm oceans of Goa and Florida, and enjoys the restaurants' atmosphere in those areas. He used to be an amateur poet and intends to reignite his passion for writing songs and one day learning to play the guitar. And yes, Ajit would love to find a companion for the rest of his journey!

Panel
Academics:

• BA Economics at University of Mumbai (1981)
• MBA from University of North Carolina at Chapel Hill (1983)

Experience:

• Director at Birla Warburg (1984 – 1988)
• CEO of Unit Trust of India Advisory Services (1988)
• Sub broker on the floor of the Bombay Stock Exchange (1989)
• Founder, Quantum Financial Services (1990)
• Director on all Jardine Fleming companies in India and co-founder of their India operations (1992 – 1995)

Recognitions:

• Voted best analyst for India by AsiaMoney in 1993 and 1994

• Voted best analyst for India by Institutional Investor and nominated to All-Star Asian Team, 1994