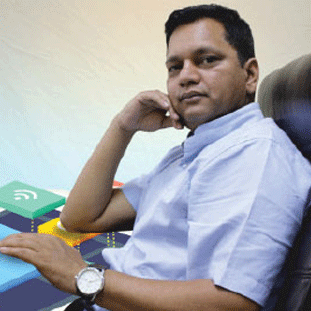 The mobile application development market has grown marvelously in recent times. Gartner predicted in 2015 that the market size of mobile app development services will grow at least five times faster than internal IT companies' capacity to deliver them by the end of 2017. The demand and use of apps is directly influenced by the increased use of iOS and Android smart phones and other devices. The usage of mobile apps is increasing among the SMEs and the future is bright for those startups which are developing mobile application technology for helping other businesses.
Ideally positioned is New Delhi based Adcore Technologies, a full service comprehensive digital marketing organization with special focus on offering comprehensive mobile app development solution to cater to the unique requirements of the customers.
The journey of Adcore dates back to 2013 when Hukum Negi quit his job to start a venture of his own. Hukum had more than 15+ years of experience in digital marketing and operations. Together with his two other friends, the three musketeers took a plunge in the entrepreneurial sea and began developing web and mobile apps under the banner of Adcore. The idea was to take customer engagement to the next level and needless to say, team Adcore left no stone unturned to make sure that they use the right technology
for fastest possible communication which results in better customer relationship and project management/updates.
Adcore helps clients to do better in technology and enables them to build an extraordinary product in the market
Sailing Against the Wind
Known as one of the best companies to offer SEO Services, search engine marketing Social Media Optimization, Online reputation management, PPC services, Web designing & Development, e-commerce portal development with latest technology, the early days at Adcore were full of challenges. Team Adcore was patient enough to sow efforts and reap results accordingly. Throwing light on Hukum speaks, "When you start any business the biggest challenge ever is the financial backup. We hired a team and started our work.
We waited a lot initially and had come across a financial crunch as we had put all our money into the venture. Soon, we obtained a project worth of 10,000 INR. This further put us in dilemma. Ready to take risk, we built a strategy to crack those and planned to overcome these situations with constant hard work."
The Silver Lining
Considering the fact that mobile app development space is gaining momentum in the recent times, Adcore offers wide range of services under one roof to make sure that their clients are able to take care of their current and future requirements. The company provides high end technology to their clients for future scalability so that they do not have to develop the product again from scratch just because of fewer commercials.
The company provides high end technology to their clients for future scalability so that they do not have to develop the product again from scratch just because of fewer commercials. "We have a strong sales & tech team who understands the requirement of the client as a coder/developer. We meet clients for brainstorming sessions where we also put counter questions on logic behind the idea of client so that he could also not involve into those businesses which have no value. This always helps us to do better in the market and gives us opportunity to work for long duration with a client," says Hukum.

In short, Adcore helps clients to do better in technology and enables them to build an extraordinary product in the market. The company has experience in delivering successful projects in Responsive Web Design, Web Development, Mobile Application Development, Smartwatch Development, E-commerce Development, amongst others.

The Core Team at Adcore

The core team of Adcore has over three decades of relevant experience. "Rehan is one of the finest key communicator for the clients who pitches in a way which is impeccable & stupendous while Irfan is one of the finest key technical GEEK which engages our client for a long term business together. He handles entire technical team," Hukum adds. A great mix of young and experienced professionals is the pillar of Adcore collectively. The team is committed, charged and pro-active and ensures delivering quality services to the clients. Narrating the future plans, Hukum concludes, "We are one of fastest growing companies in the industry. We have now summed up Adcore into BigData Reach & in iOT, which is the upcoming future of the industry."